Hi everyone,
I'm trying to use otbcli_Mosaic (OTB 6.6.1 for ubuntu server 18.04) in order to generate an overlaping mosaic of two DEM. The problem is that the result is not as expected, and te overlaping NaN zones (the borders), appear as NaN if one of the two bands has NaNs. I tried to use the option -nodata (in https://github.com/remicres/otb-mosaic) but the parameter does not exist (maybe in the next version?).
This is the result that I'm getting: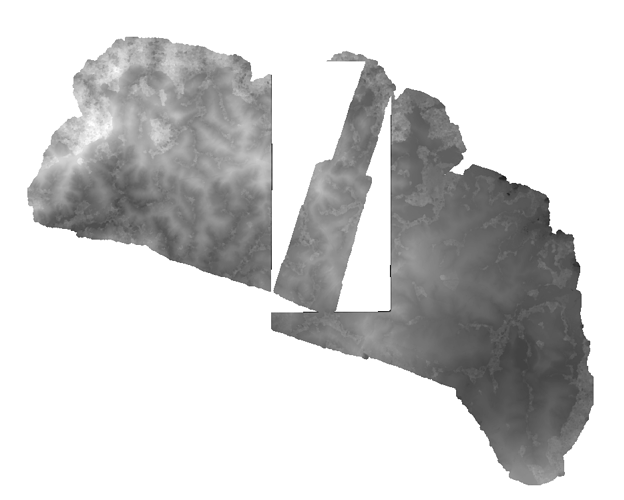 You can see that there's problem with the overlaping borders (I wanted to show how the individual parts looks like, but I'm not yet allowed).
So far, I've been trying with:
otbcli_Mosaic -il DEM1.tif DEM2.tif -vdstats DEM1.shp DEM2.shp -out DEM.tif uint8 -comp.feather large -harmo.method band -harmo.cost rmse
I've been changing these parameters:
different harm.cost
changing vdstats for vdcut
using vdstats and vdcut at the same time
not using vdstats or vdcut
using the same shapefile for DEM1 and DEM2 (one that have both areas of interest merged)
It seems that anything I have tried, produce almost the same output.
DEM1 and DEM2 have NaN values as -9999, masked by gdal properly (gdalinfo shows that with NoData Value=-9999), but I have also tested the function with rasters with -9999 not defined as NaN. The shapefiles for vdcut/vdstats are a single feature masking all the DEM values that are not NaN.
What I'm doing wrong? Or is it nos possible to generate a mosaic as I want?
Regards,
Álvaro.