Dear all,
I wondering if any of you can explain why I am not getting any entries in the shape file produced by the OTB segmentation algorithm. I have downloaded a set of Sentinel 2LA from the European Space Agency. Converted them for spectral reflectance using the SCP Semi Automated Classifer plugin and clipped them after conversion. The output of the algorithm is as follows: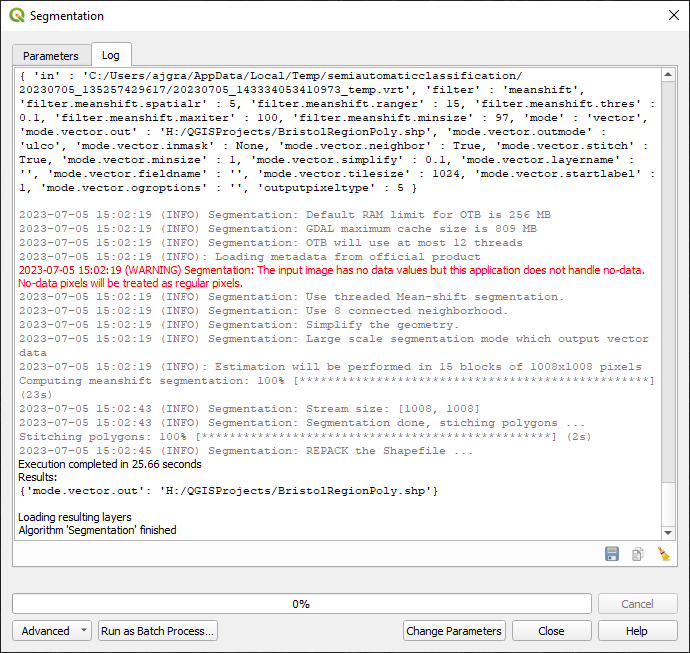 The input file is the virtual band set - that was produced in SCP Semi-Automation Classification.
I am running the following Plugins and versions of QGIS:
QGIS version
3.32.0-Lima
QGIS code revision
311a8cb8a6
Qt version
5.15.3
Python version
3.9.5
GDAL/OGR version
3.7.0
PROJ version
9.2.1
EPSG Registry database version
v10.088 (2023-05-13)
GEOS version
3.11.2-CAPI-1.17.2
SQLite version
3.41.1
PDAL version
2.5.3
PostgreSQL client version
15.2
SpatiaLite version
5.0.1
QWT version
6.1.6
QScintilla2 version
2.13.1
OS version
Windows 10 Version 2009
Active Python plugins
opeNoise
2.0
pca4cd
23.2a
pluginbuilder3
3.2.1
SemiAutomaticClassificationPlugin
7.10.11
TomBio
3.4.2
ViewshedAnalysis
1.8
db_manager
0.1.20
MetaSearch
0.3.6
otbprovider
2.12.99
processing
2.12.99
I hope that someone can shed some light on what is happening and how to resolve.
Regards,
Alasdair